Is Your Facility Prepared For Mother Nature's Bad Days?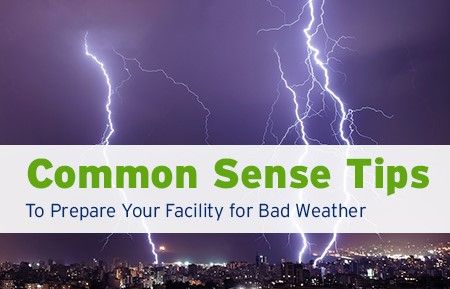 We all know what Mother Nature can do when she gets ornery.
While the greater Chicago area has been historically safer than many other places in the country, we've had our fair share of violent storms, flooding, and blizzards over the years. When these weather patterns hit, they can unexpectedly affect the health, welfare, and operations of facilities causing:
Power outages
Wear and tear on parts and circuits that keep buildings running smoothly
Loss of production
Mechanical failures that can cost millions
The main question you need to ask yourself is:
Is my commercial building prepared to weather the storm?
Common Sense Steps You Can Take To Prepare
When disaster strikes, it's too late to prepare the best response. Preparation needs to be a priority ahead of time. According to Industry Week, here are some practical things you can do now to be better prepared to weather a disaster later:
Conduct a risk assessment: What disasters could realistically pose a threat? While earthquakes are extremely rare in this area, blizzards and ice storms are almost expected. Don't waste time and money preparing for things that will never happen. Focus on those that are likely to cause an interruption.
Assign emergency response roles: Have members of the leadership and front line teams assigned logical roles in the event of an emergency. Make sure they have the knowledge, tools, and resources they need to fulfill their roles if disaster strikes.
Create a plan: Pull together leaders and emergency responders for a meeting and develop a logical plan that will allow for all vital systems and records to be protected without endangering human lives. And arrange it so the plan can be carried out quickly. The average warning for a tornado is only 13 minutes, so that's a good benchmark to use. The plan should also include communication arrangements to make sure everyone inside and outside the facility can be reached and given adequate instruction within the time allotted.
Have cleanup and repair arrangements in place: After the dust settles, every facility in the city is going to be calling the same people to set up repairs and get things back on line. If you have arrangements made ahead of time, you're likely to be back up and running faster and with less headaches.
Emergency HVAC Repair Services Offer Peace Of Mind
The best way to avoid costly, unexpected repairs and downtime is to prevent them through a regularly scheduled maintenance program that covers all your facility's major systems.
But, that's not always possible, so you also need to have a contingency plan in place.
As one of Chicago's leading commercial HVAC and energy service providers, we've developed an emergency repair protocol that is second to none, providing facility managers with that foolproof contingency plan, and peace of mind.
As is the case with first responders on the site of any emergency, our technicians' main goal is fast and efficient resolution of the situation: assess the problem, keep it from spreading, and repair the damage quickly. This ensures you're back up and running as quickly and painlessly as possible, putting your employees back to work and your balance sheet back in the black.
If you're not currently 100% comfortable with your commercial facility's emergency HVAC repair plan, contact us to learn more today.