Real Cost And Energy Reduction Requires Intelligent Building Renewal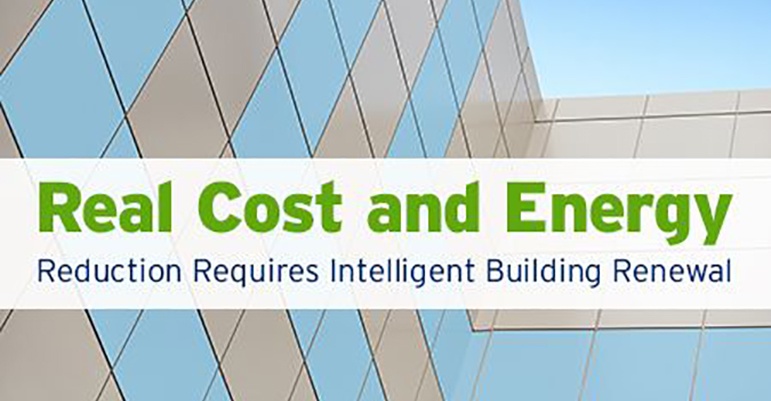 State and national laws are trending towards making existing buildings more energy efficient. Large cities such as Chicago, New York, Philadelphia and Los Angeles will be focal points in the effort to curb energy usage in existing buildings.
Improved standards for future construction will make an impact in the future, but in order to improve environmental standards immediately, the renovation of existing structures will be required.
Buildings account for 39 percent of carbon dioxide emissions, exceeding transportation, according to the U.S. Green Building Council. The U.S. will begin the process of curbing greenhouse gas emissions following the Paris accord. California is working to cut building energy use in half by 2030. More states will likely follow, by introducing measures to curb building energy use.
Staying Ahead Of The Energy Curve
Gas guzzling automobiles and smokestack buildings traditionally drew the attention of regulators until recently. Now, office buildings and residential buildings are on their radar as well. Today there is more emphasis on replacing inefficient fans, windows, lighting and HVAC components.
Building owners can start by evaluating their energy usage and energy efficiency. An energy audit can help commercial and multi-tenant property owners intelligently understand their buildings' energy shortcomings, and what steps are necessary in order to reduce carbon dioxide emissions and energy usage within an existing structure.
Commercial and residential property owners have options. They can consult with businesses that help with energy reduction. There is technology available today to better help businesses monitor real-time energy usage to understand the problem and what steps are necessary to reduce your cost of operation.
The largest buildings in Chicago (>50,000 sq. ft.) are expected to follow the city's energy benchmarking standards. While these standards are not required for smaller structures, there are elements of benchmarking that might make sense for any building owner to follow. Monitoring energy usage with HVAC systems, data centers, and the building's electrical systems makes sense in order for building owners to save on energy expenses.
An Intelligent Business-Case
While building renewal requires upfront capital, the energy savings generated by the project creates positive cash-flow, helping to pay for the project. It is a good idea to talk with knowledgeable energy experts before you begin work on your building so you understand how the changes will impact future energy usage. This approach will allow you to make better, more intelligent decisions, making sure your building performance aligns with current and future energy regulations and standards. Contact us to learn more about how we can help your Chicago area facility.